Alan Podsadowski, Executive Director
Alan is the proud father of two Afro-Canadian boys that he and his wife Kate adopted at birth in 1990 & 1992. He refers to himself as a "recovering American," and credits thirty-five years of living in Canada with helping him maintain his health and sanity.
Alan graduated with honours from the University of Central Connecticut, where he received his degree in Psychology. He began his career in the addictions field as an Addictions Counsellor and Drug Program Director with the Connecticut Department of Corrections.
Alan emigrated to Vancouver in 1977, where he continued counselling, and in 1980 became the Executive Director of West Coast Alternatives Society in North Vancouver B.C. Through his inspired leadership "Alternatives" became a preeminent substance abuse treatment centre, renowned for their program innovation and clinical integrity.
Alan is the co-author and editor of "Recovering From Addiction: A Guidebook for the Journey"a treatment workbook for clients in recovery. While at West Coast Alternatives, he developed the Kids F.I.R.S.T. program, the first children's trauma treatment and addiction prevention program in North America.
Over the years Alan's extensive background in addictions was sought out for a number of important provincial task forces and committees. He is one of the founding members and past President of the Association of Addiction Specialists & Allied Professionals of B.C. and in June of 2009 was honoured with the Provincial Award of Excellence in Addictions. Alan looks forward to learning much from his First Nations colleagues about their culture, and the needs of addiction counsellors across the country.
"My appointment as the Executive Director of ICBOC is an incredible honour that comes with an enormous responsibility. The disproportionate prevalence of substance abuse and its related collateral damage for Indigenous peoples around the globe makes all of us here realize that we are literally one person removed from every First Nations, Metis, and Inuit family in Canada. By fulfilling our mandate of improving the skills of the counsellors we certify, we can have a profound effect on every family across our land. We do not take this responsibility lightly. We are committed to assisting ICBOC achieve this critically important goal."
Giselle Robelin, Registrar & Director Of Standards
Giselle is a mother of three sons and grandmother of three grandchildren with First Nations ancestry. She was raised in Europe and in Africa, has traveled and resided in many countries and was exposed early in life to issues of culture, justice and freedom.
In 1998 Giselle became Senior Bilingual Communications Officer at the Aboriginal Healing Foundation (AHF), taking the position of Head of Communications in 2001. In 2002 Giselle completed her post graduate Degree in Andragogy (Adult Learning). From 2004 to 2009, she also served as Head of Communications at the National Native Addictions Partnership Foundation.
While at the AHF, Giselle published Healing Words which gained readership of over 2,000, organized over 20 residential school survivor gatherings across the country, and made presentations to the Senate, universities and conferences. She also had the opportunity to develop several strategies and policy papers focused on healing and addictions.
She contributed as Lead Coordinator at NNAPF to the Healing Our Spirit World Wide Gatherings in 2006 and 2010. In 2006 she raised sufficient funds to bring a South American delegation to the 2006 HOSW Gathering in Edmonton, and also organized the Heartbeat of the Nations Project that saw many groups of drummers participate in a chain of drumming from east to west and north to south, to share with HOSW participants that first day in Edmonton, their belief in the strong future of all Indigenous Peoples in the world.
With the knowledge and experience she has acquired with First Nations, Inuit, and Metis organizations across the country, Giselle is well equipped to support the vision and mission of ICBOC. She is fully committed to offer and develop professional certifications that fully recognize the specific, culturally relevant experience, knowledge and skills of indigenous workers in the addictions & mental Wellness fields, and will ensure they can access culturally safe and competent training. Giselle has a deep respect for the commitment of all those she has the privilege to get to know in the context of her work, who too often do not realize their true personal and professional value.
"The commitment demonstrated by indigenous workers in the healing field to make a difference in the life and the future of their people and communities is only matched by their unique capacity to apply the cultural knowledge and experience most needed achieve this goal.
I deeply believe the pace and scope of recovery, the return of communities to the state of well-being and prosperity these workers aspire to bring about, will be accelerated by the support and encouragement that comes from the recognition of their competencies and from easier access to culturally relevant and safe training"
Laura Noonan, Administrative Coordinator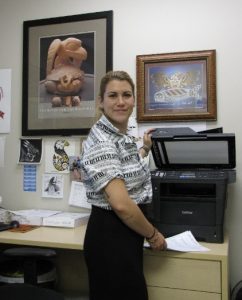 Laura Noonan joined the organization in January 2018 as the Office Manager and Administrator. Originally from Ireland, Laura graduated from the University of Westminster in London, England with advanced Hons in English Literature, examining the cultural context that surrounds Freud's Psychoanalysis. Laura relocated to the West Coast shortly after and has lived in Vancouver for 5 years now, if we don't include the year she spent farming in Australia!