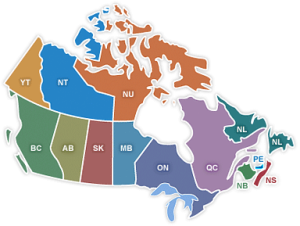 Creation of the First Nations Wellness/Addictions Counsellor Certification Board (FNWACCB)
Under its former name, the First Nations Wellness and Addictions Counsellor Certification Board was originally created at the direction of the Association of BC First Nations Treatment Programs (ABCFNTP). It was incorporated provincially in 2005 and federally in 2011.
As an outcome of this initiative spearheaded by the ABCFNTP, all aspects of the professional certification process provided to NNADAP workers are rooted in Aboriginal culture. FNWACCB's objectives were to offer professional certifications with standards that matched and even exceeded those of our competitors, and to meet the increasing accountability required by the fedeal government. Today, both objectives have been met.
Incorporation under a new name
In 2014, the members of our Board of Directors, who serve without remuneration, voted to adopt a new name: the Indigenous Certification Board of Canada (ICBOC). That same year, we received our incorporation at federal level from Corporations Canada, under our new name.
Our new name reflects the organization's expanded vision and our commitment to the Aboriginal workforce involved in unregulated occupations, through the recognition of their professional competencies and the support of their professional development efforts.
Charitable Status
In 2015, we obtained charitable status from the Charity Directorate. This now allows us to take advantage of new fundraising opportunities.
Professional Certification
Our Board certifies qualified practitioners in the fields of addictions, mental wellness, client support and community development. Our certification attests to their professional qualifications and competence. Our standards for certification are on a par with other boards, agencies and associations providing professional certification services at national and international level.
National framework addressing substance use issues among First Nation people in Canada
Our expanded certification portfolio supports the implementation of the national framework addressing substance use issues among First Nation people in Canada, described in Honouring our Strengths: A Renewed Framework to Address Substance Use Issues Among First Nations People in Canada. We therefore offer professional credentials to a range of workers employed in occupations providing services within the continuum of care envisioned by NNADAP, recognizing their respective professional and cultural knowledge and skills.
ICBOC Indigenous Workforce Capacity Development Model
The ICBOC's support in regard to the implementation of NNADAP's national framework is anchored in a unique capacity development model specifically addressing the needs of the indigenous workforce. This model is characterized by a certification system integrated in four areas of activities and based on four principles or values.
This model includes a laddering process leading to higher levels of professional certification, through the progressive accumulation of knowledge and skills acquired along years of work experience and education/training (vertical laddering). The ICBOC model also offers the possibility to transfer knowledge and skills from one professional certification to another (horizontal laddering).
Education and Training Program Accreditation
We participate actively in the indigenization movement that is generating a positive shift within education institutions in Canada. A number of enlightened universities and colleges as well as organizational and corporate training providers and individual education and training professionals have adopted constructive measures to counteract indigenous students' poor enrolment and high levels of disenfranchisement, thus optimizing their graduation rates and career success.
ICBOC is the first indigenous organization that has developed an evaluation process embedded in Indigenous values and approaches for education and training programs. Our program accreditation process supports the efforts deployed by educational institutions to attract and retain Indigenous students.
The ICBOC process to accredit education and training programs includes the following:
Indigenous input in all stages and aspects of the program

The level of cultural sensitivity demonstrated by the program

The cultural safety and cultural competence within the program

The relevance of the program in regard to the standards and requirements of the ICBOC's professional certifications
Partnerships and Alliances
Recognizing the crucial importance of a collaborative approach to achieve our vision of an abundance of valued, professionally certified, and culturally competent workers leading to healthy families and communities, we make every effort to forge and nurture partnerships and alliances with individuals and organizations.
For more information on the History and Legacy of our organization, click here
For more information on our Workforce capacity development model, click here