Board Member: Verna Billy-Minnabarriet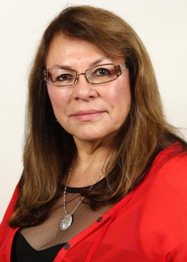 Verna completed her Bachelor of Arts Degree Program at Simon Fraser University with a Joint Major in Sociology and Anthropology in 1994. In 1996, she completed her Post Baccalaureate Diploma in Community Economic Development and in 1998; Verna completed a Masters Degree in Arts Education and is presently in her Doctoral program in Education Leadership at the University of British Columbia. She has also completed many other educational programs such as:
Native Adult Instructors Diploma Program

Senior Management Certificate Training

Conflict Resolution and Negotiation Certificate Course

Human Services Certificate & Diploma Program

Native Courtworkers & Counsellor Training

FirstHost Training

Cross Cultural Training
Currently, Verna is the Vice President of Learning Services at the Nicola Valley Institute of Technology (NVIT), located in Burnaby & Merritt, BC. She is presently the Chair of the Indigenous Institutes of Adult Higher Learning (IAHLA), a consortium of Private Aboriginal Post-Secondary Institutes of British Columbia. Previously, Verna was an instructor for NVIT, Community Futures Development Corporation of Central Interior First Nations, and the Native Adult Instructors Diploma Program, where she also assisted in the design, development, implementation, and instruction of the program.
Dr. Billy Minnabarriet has held many volunteer positions, provincially, nationally and internationally in the education and economic development fields. She is recognized as a role model among her peers and has had the opportunity to work with many educators, institutions and Native leaders. Most of her employment history reflects her passion in administration, management and education.
Her expertise as business woman, educator and professional has given her opportunity to represent many Aboriginal organizations at all levels of Government. She is a strong believer in "Community based education, Community Economic Development" and the "empowerment" and "strengthening" of Aboriginal peoples through healing, education and training.